RADICAL PELVIC HEALTH INTENSIVE
A 5-day deep dive into physiology, movement, and radical pelvic health
RADICAL PELVIC HEALTH INTENSIVE
A 5-day deep dive into physiology, movement, and radical pelvic health
Sister, this world was not designed for your body.
You were taught to stand like a man. Breathe like a man.
Sit, walk, and move like a man.
And the consequences are life altering.
Chronic back and hip discomfort
Uncomfortable, not pleasurable sex
Organ prolapse
Painful monthly cycles
Difficulty with fertility and birth
We were not taught how to live in our female bodies.
This photo was taken by Karina Jensen Photography and is owned by The Free Birth Society. Taken at Free Birth Society's Annual Matriarch Rising Festival- join us this year June 18-23, 2023.
THE RADICAL PELVIC HEALTH INTENSIVE
...is for the woman who has gone to the doctor with painful periods, and is told to go on birth control.
...for the woman who has visited her gynecologist experiencing painful sex, and is told it's normal.
...for the woman who goes to the physical therapist after a lifetime of low-back pain, and is told to do more core work.
This is for the woman who is ready to take full responsibility for her radical pelvic health.
Sister, what if there is NOTHING wrong with you?
What if, instead, everything you've been taught about your body was wrong?
What if you could learn about your female body- and how to care for it- from a radical feminist lens?
The Radical Pelvic Health Intensive is for you.
Developing an intimate relationship with your female physiology and pelvic health is essential for taking back your power, and your health, as a woman in our patriarchal world.
It starts with questioning what you've been told...
There is a lifetime of conditioning to undo, and learning to unlearn. But take a deep breath...
You can know & understand your body.
If you are a woman wanting to deepen her pelvic health sovereignty, or a woman who works with women, the Radical Pelvic Health Intensive will equip you with:
an understanding of anatomy & physiology from a female lens

an understanding of functional movement, and repair common pitfalls in your movement practice

the tools to heal chronic injury

the tools to teach other women about the female body

tools to improve your sex life through the anatomy of orgasm, posture and breathwork

the tools for healing common pelvic health concerns

a deeper physiological understanding of the body as a whole
RADICAL PELVIC HEALTH INTENSIVE DAILY SCHEDULE
8 AM: Breakfast
9:30 AM- 12 PM: Female Movement Practice
12:30 PM: Lunch
2:30-4:30 PM: Daily Intensive
5:30 PM: Dinner
7-8 PM: Evening Workshop Magic
8 PM: Rest & Connect
All meals will be prepared by an Ayurvedic chef to be specifically healing for women's bodies.
Daily Pelvic health intensives
Deep dive learning, women-centered movement, and meditation, every day.
Standing, walking, and breathing like a woman.
Gaining a systemic understanding of how radical pelvic health supports the rest of your life.
Exploring the often overlooked feminist connective tissue system, and releasing chronic pain.
Radically Shifting Discomfort
Addressing inflammation, adhesion, compression, and rupture on both a physiological and emotional level.
Orgasms, pleasurable sex, your vagal nervous system: why they are an integral part of your health as a woman.
Magical evening workshops
Sisterhood, learning, and magic, every evening.
Join us to orient to the space, the content, and each other.
Ayurvedic Science for Women
The oldest form of continually practiced medicine is based on balance and is made for women.
How knowing your natal chart can help you live into your most vibrant female life.
A New Framework for Healing
How emotional, psychological, and spiritual healing are not distinct from physiology.
We sing with our whole bodies. When we sing women's songs, our whole bodies attune to sisterhood.
Your radical pelvic health expert.
Adelaide is a physiologist, yoga teacher, bodyworker, and homebirth midwife who is passionate about the radical feminist reclamation of the body.
Her genius is her ability to read the female body- specifically, women's sacred posture and the magic of the female pelvis.
She is passionate about liberating movement practices from biologically inaccurate and harmful bodily teachings that are grounded in male physiology, and rebirthing female movement practices.
She is a sought-after teacher, leader, and speaker on women's health and women's culture, as well as the author and illustrator of a children's book about undisturbed birth.
What women are saying about working with Adelaide:
"Yoga with Adelaide was the first time I could do yoga without pain."
- Keighlee
"Throughout my pregnancy, I learned more about my body from Adelaide's classes than I did from any of my doctors."
- Darby
"Adelaide's teachings were the most helpful part of my prenatal care, and I'm a homebirth midwife."
- Celia
"Adelaide is a clear and dynamic educator with a pertinent perspective on women's health. Her understanding of the body's wisdom is a resource for families and their allies."
- Kyla, Nurse Practitioner with a focus on women's health
Radical Pelvic Health Intensive Staff
Veronica Wolff-Casey has been cooking since she was five and has been fascinated with how food makes us feel ever since. Having studied Ayurveda at Kripalu and in India, she is well versed in bringing ancient knowledge to the modern table.   Veronica is a NAMA board certified Ayurvedic Practitioner and Ayurvedic Yoga Therapist who thoroughly enjoys working with pre and postnatal women as well as guiding folks through the cycles of their lives.  Veronica lives in Somerville, MA with her husband and three cats.
THE GOOD COMMONS RETREAT CENTER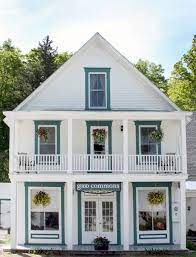 The Good Commons Retreat Center is located in the village of Plymouth Union, Vermont, and nestled in the picturesque Green Mountains.
This charming historic home houses a beautiful kitchen and dining space for 25, a spacious and well-equipped movement studio, and ample outdoor space with a hot-tub. The house has five semi-private bedrooms, several bathrooms (including one with a steamroom!), as well as a sleeping loft.
 Explore the Vermont landscape and enjoy the great local hikes and visiting artisan shops in your free time.
These rooms contain two single beds that open up to a common room with a shared bathroom just outside the door. These rooms are perfect for women rooming with a sister or a friend!
Shared Room- Sleeping Loft
Remember having sleepovers as kids?! This sleeping loft is a beautiful, open, wood-paneled, sunlit space on the third floor with nine single beds, as well as two bathrooms for women to share.
All of our meals will be lovingly prepared by Veronica Wolff-Casey, our resident, Board-certified Ayurvedic practitioner and private chef. Our omnivorous menu will be full of locally-sourced produce, meats, speciality foods to keep us deeply nourished throughout the weekend. This is an alcohol-free event.
Your questions, answered!